FUN Activities & Entertainment for a Company Party at Imagen Venues
Hosting a fun, unique company party is a powerful way to boost morale and give your team the chance to relax and unwind. They will go back to work feeling motivated to tackle any challenge that comes their way, a perfect way to end 2021 and start the New Year.
If you are planning a company holiday party in Houston to reward your employees and show them how much you care, you have come to the right place! This guide will give you some unique party ideas that will grab their attention and keep them talking for months.
Mechanical Bull Riding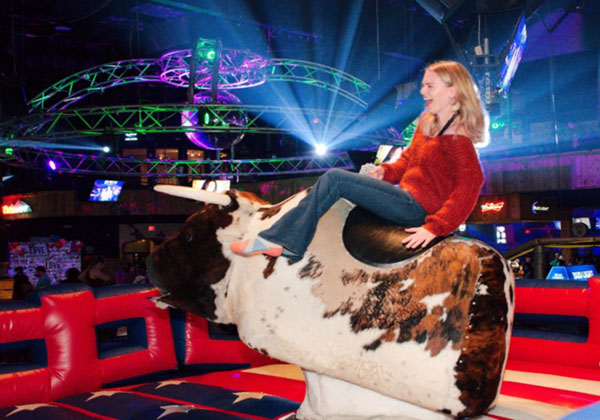 If your team is feeling a little adventurous and wants to indulge their wild side, let them try their luck at riding a mechanical bull. Start on the lowest setting to let them warm up to the challenge, and you can slowly increase the difficulty to see who lasts the longest.
Make the event a little more interesting by offering sporting event tickets, gift cards and other prizes to the winners. Your team will have a blast putting their skills and luck to the test on a mechanical bull, and this challenge is also a great team-building exercise.
Holiday Casino Party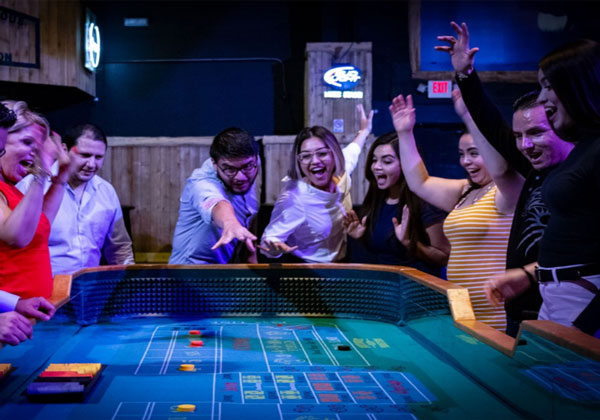 Give everyone a break from the stress of work and let them put their luck on the line with a casino themed company party. Imagen Venues supplies the space, professional staff, high-quality tables and equipment. Your team can play Texas Hold 'Em poker, blackjack, roulette and other great casino games that provide hours of entertainment and an unbeatable experience. They will feel the rush with each roll of the dice, hoping to be the next big winner. Those on your team will have a blast from the time they arrive to when they pack up and depart if you offer casino games during your company's holiday party.
Food and Contests
Treat your team right by hosting an event with some of the best food and drinks Texas has to offer. Imagen Venues' custom menus and full bar service make it easy. Consider serving steaks, BBQ or a range of other meals that will make anyone's mouth water. In addition to serving unbeatable meals, you can also hold a few contests to take the fun to a whole new level. You can let your team play different games, but also plan to let them get raffle tickets for a shot at the big prize.
Live Music or Dj
Hosting a company holiday party with a live band or a professional DJ is a fantastic way to bring people together to celebrate the season and take your party to the next level. Playing just the right mix of holiday songs and popular dance music, the band or DJ will loosen up your guests and get them on the dance floor. Your team won't soon forget the experience.
Trivia
When you are planning a company holiday party, include a game or two of trivia. You can connect a gaming system to a large monitor and give each of the players a controller to answer questions. Depending on the system you use, you can select from a range of great categories.
Want more ideas? Check out a few other activities for parties and special events at Imagen Venues.
Plan Your 2021 Company Holiday Party at Imagen Venues
When you are planning a company holiday party and want a venue that gets the job done, you can count on Imagen Venues. Our full-service holiday party venues in Houston provide indoor / outdoor spaces for parties from 50 to up to 5,900, depending on your space needs. Our team will work with you to create a customized party package that can include venue rental, catering, bar service, activities, and entertainment as well as professional staff and more, saving you the time and hassle of working with multiple vendors. Planning a party for your office employees or corporate team couldn't be easier, or more fun.
If you would like to host your company holiday party in Houston with style, we invite you to contact Imagen Venues for more information about the benefits and how you can begin.