Team Building at Imagen Venues is FUN!
As you make the announcement, "It's time for our annual corporate all-day meeting," you see boredom on many faces. Continue with "AND team building at Imagen Venues," and the attitudes change. Imagen Venues, the premier corporate event venues delivering well-executed, unique experiences, creates customized events designed to help organizations develop more effective, high performing teams in a unique and fun environment. At Imagen Venues, you can plan a successful corporate seminar with team building activities employees get excited about.
The Versatile, Unique Corporate Event Venues in Houston
With two large, full-service event venues on site, located only 12 miles from Minute Maid Park, Imagen Venues provides the perfect seminar space with top of the line audio and multimedia services, tables and seating, professional event staff and more. Our 35,000 square-foot versatile venue can be configured to include space for break-out sessions and intimate meetings as well as fun team building activities, all at one venue, based on your event needs.
Our in-house catering has many options to choose from for breakfast, lunch, passed appetizers, dinner, and more. After your meeting is over, it's time for Happy Hour at Imagen Venues. If you choose to extend your weekday event late into the night with a post-seminar party, you can do so without concern.
Team Building Events with Fun Activities & Entertainment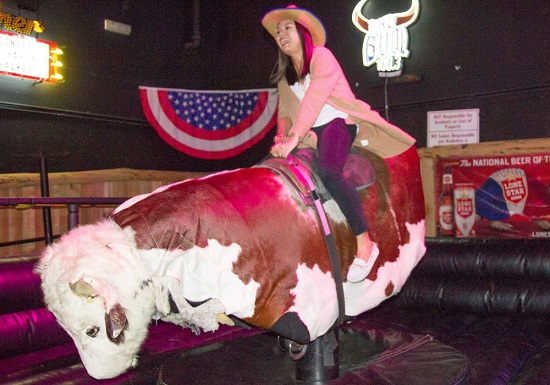 "We didn't invent fun, we just perfected it!"
A corporate team building event at Imagen Venues is memorable and fun. Imagine the signups for a corporate event that challenges employees to a mechanical bull riding contest, poker tournament, pool tournament or karaoke competition. Line dancing lessons or a mixology class is another great way to finish a day of meetings and training workshops.
Take photos next to a real Texas longhorn or watch live armadillo racing on our Super 'Dillo' Track. Enjoy an outdoor crawfish boil with ice cold beer and a great Texas live band. Imagen Venues can make it happen.
Why Invest in Fun?
In the article, "Why Team Building Is The Most Important Investment You'll Make," Forbes contributor Brian Scudamore says spending time together and sharing an experience is far more effective than activities with obvious leadership lessons or practical takeaways.
"The most successful, memorable team-building events are ones that don't feel like a day at the office," he says.
While sharing different, fun activities and experiences at Imagen Venues, employees will learn more about each other and form personal bonds that carry into the workplace, creating stronger teams. It happens naturally.
We invite you to contact us now to learn more about corporate team building at Imagen Venues. Our professionals will help make your next event a successful, memorable experience.